What is it?
The Alexander Technique features an educational student/teacher relationship. The goal is to improve skill and poise in everyday living and the result is often a permanent solution to musculoskeletal pain and obstacles to learning and improving skilled activities.
Discomforts and obstacles to skilled performance are often "use-related", This pertains to "how" actions are initiated and carried out — often, unfortunately, with mis-directed muscular effort. As one stops unconscious, interfering habit patterns, a natural, easy approach will foster coordinative strength, improved kinesthetic sense, skill development, and productivity. The indirect result is reduction or elimination of musculoskeletal discomforts. Additionally, stress can be better controlled when we understand how our reaction to stress is that of "strain".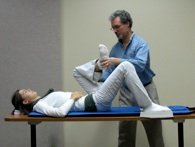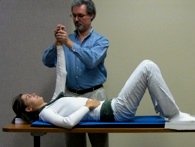 F.M. Alexander (1869-1955) developed a blend of what looks like a combination of education, physical therapy, psychology, counseling, and scientific inquiry. He founded what may be considered the original mind/body approach in the Western world.
You can Benefit !
Sometimes you work at a computer and find your shoulders becoming tight. Sometimes you play golf or tennis and know that bad habits prevent you from improving your game. Sometimes you practice music and find yourself becoming stiff, sore, tense, and your tone getting thinner.
Due to a phenomenon called "unreliable sensory awareness", we become accustomed to the tension we carry with us. Unless we are in pain, we don't notice the tension and stiffness. Yet our inappropriate efforts have a powerful impact on every goal we set out to accomplish. Our internal feedback system, or kinesthetic sense, which would normally tell us when something is going wrong, becomes unreliable, and creates road-blocks to making changes in ourselves. The Alexander Technique helps the kinesthetic sense become a more accurate guide so that you can take on new activities, as well as old ones, with greater ease, freedom, and control.
Benefits can include greater ease in movement, more freedom of choice, improved coordination, a stronger back, and increased energy. You gain a newfound, immensely practical skill in learning to identify and stop destructive patterns of behavior that interfere with how you move, learn, and respond to your environment.
Extra info for musicians here.