Buckwheat Hull Pillow. I highly recommend using a buckwheat hull pillow. They are very malleable, supportive, comfortable, and inexpensive. You will likely have to take 1/3 of the hulls out because they come with too many. In bed, you will need to briefly readjust the pillow to conform to your head, but this becomes very easy with practice. Try this vendor:
Pillow and Cover Set link here
See the Japanese Size Pillow (and, optionally the link to pillow/cover combinations. The Japanese size is perfect and not too heavy.
------------------------
Furinno K6-BK Premium Aluminum 360 Adjustable Portable Folding Lapdesk. Link here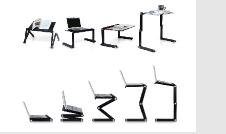 ------------------------
Adjustable Height Piano Chair. Great for tall or short people. Very flat seat.
Available from: http://www.jimlaabsmusicstore.com (they have a store in Arden Hills, MN) or http://www.cpsimports.com